Sangoma pioneers WANPIPE ADSL card to support FreeBSD

By Jeremy C. Reed

In July, Sangoma Technologies announced a new internal broadband ADSL modem for FreeBSD. Then at LinuxWorld, the WAN communication hardware and software manufacturer demonstrated the S518 ADSL for the first time in public. According to Sangoma, this will enable open source server manufacturers to be able to provide added value by integrating broadband ADSL support.

"FreeBSD is the system of choice for ISPs who want to use open source," said Sangoma Technologies sales engineer, James Scott. "It has a reputation of being somewhat faster, more secure and more robust than Linux. Many of our OEM customers providing Internet and security servers use FreeBSD or OpenBSD."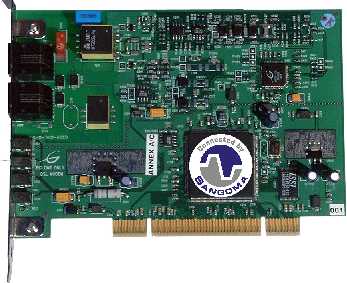 Currently, this PCI 2.2 card is not supported under NetBSD, OpenBSD, BSD/OS, or Darwin OS. Sangoma will support these as the market demands, Scott said. (In addition to FreeBSD, the S518 is supported by Linux and Windows operating systems, and will soon support Sun Solaris.)
The GUI monitoring software and utilities have been ported to Java, Scott said, so they all are available.
Under FreeBSD, the drivers support PPP over Ethernet and ATM, Ethernet over ATM, and IP over ATM.
"Some code, in particular, part of ADSL, does not belong to Sangoma, and therefore we cannot donate it to the community," Scott said. "However, we have written an open source operating system abstraction layer so that this block of object code can still be compiled into any kernel."
According to Sangoma, the S518 connects on a POTS line and provides the highest possible line speeds to any currently installed DSLAM installed in North America. It complies with the ITU G.992.1 (G.DMT), ITU G.992.2 (G.Lite), ITU G.992 Annex A, Annex C, and ANSI T1.413 Issue 2 ADSL standards. And data rates range from 1 Mb/s upstream to 10.5 Mb/s high speed downstream.
For the past few years, Sangoma has provided WAN hardware (such as high-speed serial cards with integrated CSU/DSU for T1/E1 circuits) for FreeBSD and OpenBSD. They also provide WANPIPE software and kernel device drivers which can be installed using the pkg_add command. (The kernel must be configured and rebuilt.)
(If you use the S518 or WANPIPE software, please share your feedback below.)
Discussion
Discuss this article below.
Sangoma WANPIPE S518 - Heiner Strauß
WANPIPE S518 - Colin Reed
S514/508 - Paul Olazabal
Sangoma ADSL ok, no SDSL - Hubert Tonneau

Sangoma WANPIPE S518
Heiner Strauß - September 02, 2002 16:40:40
Finaly there is an ADSL card for FreeBSD. I have used the sangoma S514/508 E1 cards in the past and was satisfied. I have 2 questions: 1. Will the card work with T-Online ADSL ? 2. Is this card useable for SDSL ? I'm useing a Netopia router at the moment.

WANPIPE S518
Colin Reed - October 29, 2002 11:25:00
Any news on drivers for OpenBSD would be appreciated and an answer to the question on SDSL support. We use G.SHDSL

S514/508
Paul Olazabal - November 03, 2002 11:07:24
I have problems donot load my modules WAMPIPES is a message that show when are loaded the Linux
What happen? I can do for solucionated?

Sangoma ADSL ok, no SDSL
Hubert Tonneau - September 06, 2003 16:24:31
Sangoma technicians told me that the S518 chipset is for ADSL, and that a new card will be required to interface SDSL, also they wait for SDSL to stabilise before producing one.
For production, the S518 is great because it does not crash, properly recovers in case of line failure (what the routeurs did not), and can work with Linux SFQ (safe fair queing, I don't know how this translates to BSD) which is a must in order to run anything but a toy site with a limited bandwidth (enables to keep latency resonably low).
See http://pliant.cx/ which is running FullPliant operating system, and is connected through an S518.


---